Custom Wade Saddle
The Vaquera inskirt by Keith Valley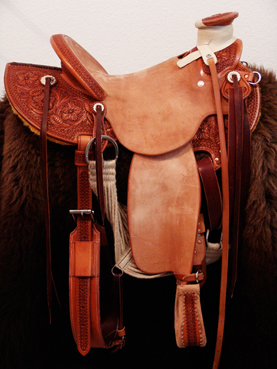 My wife loves the saddle you made for her!
R Tonkin - Amorillo TX

Vaquera (Cowgirl) Wade Sheridan Style Floral Tooled Half-breed by Keith Valley
Gullet - 7 & 1/2H by 6 & 1/4W by 4
Horn - 3 inch Ht by 4 inch Round Horn
90 degree bars
7/8ths in skirt riggin - Hardware by Harwood
15 & 1/2 inch seat
Cheyenne Roll - 1 & 1/4 inch
Sheridan style floral with Keiths Vaquero border with roughout seat and fenders. Special ordered leather bound stirrups with matching Vaquero border







Back Next
contact us
about an order like this saddle.